!Converted with LaTeX2Organic Version 95 (Thu Nov 30 1995) using LaTeX2HTML 95 (Thu Jan 19 1995) by Nikos Drakos (nikos@cbl.leeds.ac.uk), CBLU, University of Leeds >


---
---
---


Contents
Next:
Chen Zhijie's results
Up:
Basic tools
Previous:
Basic tools
---
---
Representatives of the forms are listed in the table below. The number

in the third column is the minimal number j for which

. The dimension of the orbit has been determined by finding the connected component of the stabilizer

, cf. .2.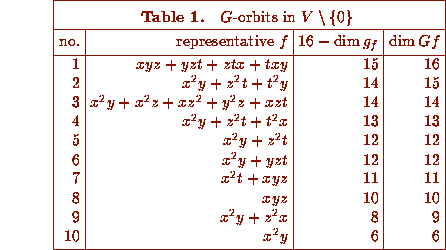 For

, we shall refer to the form in row i by

. All but the ones listed in rows 3 and 6 were found by Chen [Z].
---
---


Contents
Next:
Chen Zhijie's results
Up:
Basic tools
Previous:
Basic tools
---
---